Cardio Kickboxing® Disclaimer
---
Cardio Kickboxing®
Home of The Original Sport Specific Workout with a Kick Since 1992
Cardio Kickboxing® is a registered trademark, Reg. No. 1,890,451, 1995.
Use of the name without permission is prohibited.
---
Please consult your physician before engaging in any exercise or sports program. DSSI, Cardio Kickboxing®, and it's fitness associates are hereby held completely harmless of any accident, illness, injury, or liability which might occur regarding the use or misuse of our program concepts or materials.
Since the creation of this Original Cardio Kickboxing® Program by Frank Thiboutot there are today literally thousands of hybrid "fitness kickboxing programs" and even copycat programs not affiliated with this U.S. trademark Original program. And therefore, this program, its science, methodology, and distinction does not necessarily represent other non-affiliated fitness kickboxing programs.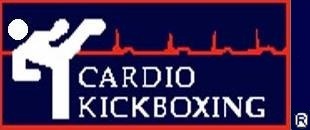 Return to Home Page