Kenneth A. Johnson, PhD
Personal Trainer/Cardio Kickboxing Instructor
Ft. Lee, Virginia
Domo arigato gozaimashita Sensei! Had an awesome experience training with the CK team! Look forward to lighting fires and fanning flames in New Mexico. You are an excellent mentor and human being, and your teachers could not be more proud of you. Thank you for your time and valuable insights. I've not met a more talented and knowledgeable Fitness Kick Boxing instructor. Hope I can do you proud! Wish I had more time to stay in Hawaii and am feeling the melancholy as I depart back to the mainland today, but Hawaii keeps calling me back! Looking forward to our next encounter, sir!
Oorah! Bring it on and Fire it up!!! Give the girls all my best. Couldn't have found better training partners!
Hi Marcus,
Thanks again for another successful, fantastic workshop. I had a lot of fun. I think this is the biggest one I have been too. I will introduce your new combo to class tonight. I am going to try the circuit too for a Sat. class. I have to work on it. I am going to blast your new CD and listen while I work.
Aloha,
Mineyo
February 27, 2006
---

Marcus,
May I say to you and family, have a merry xmas and happy healthy new year.
And just to let you know out of the 70 something kickboxing tapes I enjoy yours the best, as a matter of fact yours is the only ones I have been doing and thank you for making my workouts enjoyable, and keep up the good work, and always a pleasure talking with you or I might say typing LOL. I wish you luck of your next video.
Enjoy your holidays, and Thanks again
Gail
December 24, 2005
---
Dear Marcus,

You asked how I came to your web site. I was looking for a cardio web site and yours came up and I must say I'm glad I found it. I did receive your tape Wednesday, very quick I might add. The workout was excellent, I'm 53 years old.
I was a runner for 10 years and had to quit around 8 years ago. I took up Tae Bo and found it was better than running. From 8 years until now I would say I must have bought at least close to 200 boxing and kickboxing tapes, not to mention what I gave away, sold, or got bored with.
I am always looking for new fitness kickboxing tapes through Amazon, Ciavideo, Collega, Cathe Fredrich, etc. so when I get them I look up the instructors web site and buy more. I get bored easily so I do between 1 - 2 hrs per day, 7 days a week.
When I worked out with your tape this A.M., it felt like I was in the class. You kinda remind me of Billy Blanks 8 years ago, with his class sweating, now his tapes are just for money. I still buy them but I could kick my self for doing it, cause they all repeat themselves, and he still makes up as he goes along.
How come you didn't put your tapes on infomercial like Billy? I guarantee you, you will see, I am definitely going to buy more of your videos. I got the More Power vol. 3 now. I want hard, sweat and one hour or more in a workout. Are you going to make more in the future?


Thanks a lot
Gail Smith
New Jersey

September 29, 2005

---

Dear Sensei DeValentino,
Thank you for sending me the extra DVD. I appreciate. The cardio kickboxing DVD's are great. I am enjoying them!!
Thank you once again.

Sincerely,
Débora Borgas-Agostini
September 28, 2005

---

Dear Mr. DeValentino,

Thank you very much for the video. I was searching for cardio kickboxing DVDs on the Internet and your website seemed to have most of what I was looking for.
I'm in the Navy and started cardio kickboxing when I was deployed on the USS Abraham Lincoln. I did it for 3 months or so and I got into great shape, not to mention losing 15 pounds.
I just received the DVD's also and had to try one. I didn't think I should start with Volume 5 so I did the other one and its wonderful! Exactly what I was looking for! I had so much fun and I got such a great workout. I'm going to recommend it to all of my friends, I know they'll love it as well.
Anyway good luck on returning home to Hawaii. Again, thank you SO much.

Krystal Chapa
Wahiawa, Hawaii
September 14, 2005

---
Mr. DeValentino,
Sorry to hear you are leaving the states to go back home. After completing studies I plan to open a martial arts school and add a cardio kickboxing program. I think a good cardio kickboxing class is very exciting. I think you are an outstanding person and it will be a great loss to the Northeast area when you go back home to Hawaii.
It has been an honor getting to know you, and I'm sure we'll meet again.
Good luck and thank you for everything!
With the Faith,
William Dwyer
Pennsylvania
August 27, 2005

---
To whom this may concern
Dear Sir or Madam
This letter will serve as a recommendation for one of our faculty members. Marcus DeValentino, whom I have had the pleasure of working with since 1999.
Another colleague, Frank Thiboutot, the founder of Cardio Kickboxing, introduced Marcus to me in 1999. At the time that I was introduced to Marcus we were expanding operations and adding Cardio Kickboxing as a certification program to the AFPA curriculum internationally. We felt, as did Frank Thiboutot that Marcus DeValentino would be an excellent addition to our staff.
Please refer to letter of appointment for Marcus DeValentino as further indication of our thoughts on his abilities and experience. I have had the opportunity to review approximately 15 hours of instructional video tapes that Marcus has produced.
Please feel free to contact me with any additional questions that you have. I highly recommend the work of Marcus DeValentino, as I truly believe that he will be an asset to any organization.
Professionally,

Mark J. Occipinti
MS., PhD., ND (candidate) Exercise Physiologist
President, American Fitness Professionals and Associates
P.O. Box 214, Ship Bottom, NJ 08008
(609) 978-7583

September 2000

---
Marcus,
Thank you so much for all you've done for me. I deeply appreciate your willingness to support, teach and lead me through our art. I've learned so much from you and would very much like to take the time to learn more.
I am willing become licensed under your direction as a certifying instructor.
You are an AWESOME instructor!
God Bless
Jonathan Blackburn
jb@maxximumfitness.com

---
Hey Marcus,
Wanted to let you know that we enjoyed the seminar. Today was our first Cardio Kickboxing Class and it went great. The people really loved it and I think it's going to be a big "hit". We already have sign-ups for the class into the middle of next month and that's just after one class. Keep me on your mailing list and let me know if you have any other seminars coming up.
Thank you very much.
Ann Oswald
The Gym
10th and New Jersey Aves.
North Wildwood, NJ 08260 annyo@comcast.net
April 18, 2005
---
Marcus,

Hello My Dearest Friend,
Marcus, I am totally amazed at your website! It has been a long time since I have visited. I am on Spring break now and I wanted to come back and check things out. It has been almost 5 years since I met you on that fateful day at Hickam AFB when you were teaching your CK classes in Honolulu. I first attended because I had let myself get out of shape and a friend had heard about you and she wanted us to both go and take your class. I was totally blown away from that very first class and then I was absolutely hooked! And here I am, a CK instructor myself teaching YOUR classes at Pearl Harbor Fitness and now also at Nuuanu YMCA on top of working full time as a microbiologist and going to school part time for my second degree. I wouldn't be able to accomplish all that I have so far if it wasn't for you and CK.
You have basically changed my life around. I needed to lose weight first of all and I was able to do that. Since I have started with you I have lost a total of close to 30lbs. I used to wear a size 10 and now I am a size 4 and have been able to maintain that for 2 years now. My energy level is over the top too. You not only made me healthier but also gave me a lot of self confidence to believe in myself and to accomplish anything I set my mind to. I had a lot of self doubt but now I don't anymore. When I was with you I saw how many people you helped and inspired and it made me want to do the same thing too. I was very reluctant at first but you gave me the courage to teach CK and also get back into my love of martial arts again after all these years.
I now also sub martial art classes at the Y and have taught a women's self-defense workshop at Pearl Harbor Fitness. On top of everything else I also practice Tang Soo Do with your very good friend and fellow martial artist Ron Pohnel. I am also a member of his Honolulu Sparring Club. I also practice a variety of other styles including Kajukenbo with one of your former instructors Grand Master Ed Lewis at the Leeward Kenpo School when I can.
I have gotten my son into martial arts too and is also a member of the Sparring Club and he has started competing. When you were here last year for your workshop and the World Black Belt tournament at which you were honored, my son won his first competition and you presented him with your bo that you demonstrated with. He was speechless when you gave it to him. He treasures it. Thank you Marcus. I am now teaching 4 classes a week and class numbers are growing.
I have become a bag addict and love teaching techniques on that Wavemaster heavy bag. Two of my student kickboxing girls started with me and were able to meet you. Jan Coombs also decided to get certified after only 2 weeks of being in my class. Now she teaches Cardio Kickboxing at Waianae High School where she is a P.E. teacher. She is also a member of our Sparring Club along with Tyra.
Both now practice Tang Soo Do and Kajukenbo and spar with me. Tyra and Jan both fight competively now and they both placed 1st and 2nd in a regional tournament last month and they went on to the Nationals in Utah to compete last Saturday. Tyra called me to tell me that she placed 1st and Jan placed 2nd overall in the women's colored belt division. Honolulu Sparring Club fought as a team and placed 2nd overall. We put Hawaii on the map! I am so proud of my kickboxing girls.
When you left Hawaii you had told me that an instructor's greatest achievement is when your student becomes even better or grows to greater heights than you and now I think I know what you mean. They tell me how much I have inspired them and guess what, that's how it started with you! Although you are many miles away now but you always inspire me and continue to amaze me. I owe it to you for how far I have come and for allowing me to pass on your legacy. You are by far the best of the BEST!! Thank you for being my friend, my inspiration and my Sensei.
Love and Aloha always,
Mineyo Shimojo
Honolulu, Hawaii
March 25, 2005
---
Marcus,
Good morning Marcus, I went to my first kickboxing cardio class here in San Diego last night at LA Fitness Club. You know what the instructor told me? Good Form. Can you believe it? It's been five years since I've been your student. Me! The new girl in her class with oh 25 other girls and she walked over by me and said good form. It's all because of my wonderful master (you). My body didn't forget. I will always have love and admiration in my heart for you Marcus.
Have a blessed day,
Aloha & Mahalo Bettina.
San Diego, CA
March 25, 2005

---
Marcus,
Do you want to hear a success story? In the last 12 months I've lost 14 lbs, reduced body fat % from 35 to 27, lowered my cholesterol and blood pressure, and have more flexibility than ever. This is due to YOUR CK CLASS and a change in my diet. I have been doing aerobics/step classes for almost 20 yrs and never gotten these dramatic results. I feel great and I'm glad that even as I push 50 I still have a lot of control over my health and well being. So THANK YOU VERY MUCH! Hooray for kickboxing!
Until Wednesday,
Peg
Honolulu

---
Hi Marcus,

Its been 3 weeks now since I started going to your cardio kickboxing. I could not believe how motivated I am. Your music, your style is awesome. I'm beginning to see a new and improve me. I can't wait to take your martial arts class...your kickboxing class is so addicting that I sometimes go twice a day!!! Looking forward to hear you say "Go Chris" in your class.
Thanks for being a friend
Christine Chaves
Honolulu

---
Marcus is the best kick boxer EVER!!! His moves are AWESOME!!!
Paula George
Baltimore, MD

---
Guess who....you never cease to amaze me. This site is incredible. Found myself just reading. Definitely an honor to be your Cardio Kickboxing student. You're sparking my interest more in Martial Arts.
Later Sensei
Joyce Cohen
Honolulu
---
Hi Marcus!
Just wanted to check out your page, pretty cool! Your cardio kickboxing class has really stepped up my cardiovascular fitness training and helped me to lose a lot of weight! I love it! The best part of the class for me, aside from the awesome instructor, of course, is hitting the bag! I have developed so much more confidence in myself since I began taking your class. I may even be ready to take a Karate class with you! Thanks for everything Marcus! You are a truly wonderful person and I am grateful to had the opportunity to learn from you.
Angela Verna
Honolulu

---
While serving in USAF on Hickam, I 'discovered' your class. I went as a dare with a girlfriend of mine. We loved it; and made a point to go every class. We both lost a lot of weight rather quickly. After leaving the AF, I have looked for ANYTHING equivalent to your program. NOTHING compares. It was just recently that I decided to surf to see if you had a website by chance, and am SO glad I did. I'm getting married in June and would like to lose about 20 pounds before the wedding but ultimate would like to lose 35-40. I know I can do it with your tapes!!!
Thanks Marcus!
Amberly Anderson
California

---
Here's another story for all to read.
I first heard of Marcus and his CK workout through a friend. I finally got it in gear and attended one awhile after my friend and I spoke. I was immediately pulled in by the music, his charisma, the energy of the class, and my energy! I knew I had stumbled onto something that had to become a part of my life. I had taken other CK classes before but this was the clincher. I remember saying those magic words to him without even thinking twice..."tell me about certification". It's been a nonstop ride ever since and not only am I now a certified CK instructor but I am also working on another certification so I can increase my options to teach CK in more places! I now have had the opportunity to teach at several different locations but always love to come back to home base for the DeValentino workout. I know where ever I go CK will always be a part of my life. It is a workout that empowers not only the body, but the mind and spirit. This transfers over to every other part of my daily life. I also love the reaction I get when I tell people I teach kickboxing.....so cool!!!! I know you've heard this from me before Marcus but thank you for bringing CK to me and your awesome continued support. You have a true gift.
Here's to you Sensei!
Joyce
Honolulu

---
Thank you for all the motivation you have been providing in class. I am not a fan of exercise and sweat. But I find myself liking and looking forward to your cardio-kickboxing classes. I am doubly motivated by the eight pound loss in my first two weeks!!! Thought I would forward this cartoon because I thought of you when I received it. (Sorry, cartoon not included.) Thanks again--
Much aloha,
Melissa Brus
Honolulu

---
Hi Marcus,
I really appreciate your help. My husband is very excited about my decision to become a Nationally Certified Cardio Kickboxing instructor and he is very supportive. It really feels great to invest in myself with an opportunity I never thought possible. I used to hate sweating and worse, exercising. I never worked out aerobically until only two years ago. Step class got me started and although I enjoyed the classes, but still considered it more of a chore I must do. I tried several aerobic kickboxing classes, but every one seemed to hurt my knee or was just too hard until I met you. It gave me a totally new aspect to exercising, something I finally look forward to everyday and just can't get enough. I really thank you for opening a door to a new life for me. I owe every pound I lose and every cut in my muscles to your CK parties.

Aloha,
Eri
Honolulu

---
Marcus you are the coolest guy I've ever met. You really know your kickboxing and as I am checking out your site I see that you teach a whole bunch of stuff... no wonder you got a spider (car)!! well anyways I've lost like 5 lbs but I've toned my muscles a lot. I've always wanted a 6-pak and I'm starting to see 1 in your classes u make it so fun I'm gonna miss ya when ya go to MD but I'm sure that the people you have trained will do pretty good and I'm sure that ill be a pretty good teen instructor or at least I hope!! I'll try and for anybody looking at this I know you can totally agree and if you are in MD any body and you want to have a blast and look great doing it look up where one of his classes is and GO TO IT!!
Mahalo...
Tia
Honolulu

---
Dear Sensei,
I have received the cassette and the CDs yesterday, I want to thank you for some awesome stuff! This is great, I watched the tape and it was very enjoyable, I will use some of the techniques for my students, once I have them down pat, again thank you! Let me know when your new dojo is set!!
Good Luck!-
Sensei Anglin :)
Gaithersburg MD

---
I discovered kickboxing at Hickam Air Force Base in Honolulu and was amazed and motivated by Marcus. I ended up getting several women in the neighborhood involved. Marcus can motivate and help anybody at any fitness level enjoy and get results from kickboxing. I am now in the Ft. Meade area and was pleasantly surprised to find out that he offers classes in this area as well. I highly recommend his class as well as any of the numerous instructors he has personally trained!
Jamie Duncan
Columbia, MD

---
Marcus,
I attended the 'Fire It Up' Cardio Kickboxing workouts on Schofield Barracks Family Fitness Center back in 1999. The class was so beneficial, I can recall that after about 4-6 weeks of your class I scored my highest score on the Army Physical Fitness Test. So I know personally the class works. My wife and I are interested in the workout tapes for CK.

I really want to thank you for the workouts I had in Hawaii, you were truly inspirational and motivating. It wasn't that I was out of shape it was that you motivated me to go above and beyond what I was already doing in the Army. Your program is truly a system designed to get maximum benefit at a great price. If your travels ever take you to Sioux City, Iowa area for a program please let me know and I'll be more than happy to attend.
Thanks again and "Fire It Up!"
Chad Sussex
Newtek Accounting Systems, Inc.

---
Marcus,
This is from my first aerobic instructor who used to be the athletic director at Chaminade University in the early 80's (right after I grad from college). He has his Master's in Sports Science. He went back to school to get his Master's in counseling and is now a counselor at one of the high schools in Las Vegas. Again, Thank you Marcus. It is because of you that I have been able to achieve this. You are the BEST!.
Mineyo Shimojo
Team CK
Nuuanu, Hawaii

---
Aloha Mineyo!
I want to thank you again for being as good as you are at what you now do. You have not only learned your craft well, but have learned to teach it well also. You actually do look really great. Your motivation seems high, and I know you will continue your fitness efforts. Not only that, but, whenever I need a little fitness inspiration, I'll be thinking of you.
LOVE & ALOHA,
Cliff

---
Marcus,
OOH RAH!!! Your class was extremely motivating. I really enjoyed the high energy workout. Your method of teaching is awesome. I plan on attending some of the other instructor's workouts. I can't wait to start teaching students of my own.
Thanks again
Semper Fi
Theresa Medina, USMC

---
VICTORY!!!
Well I have to admit that you are BAD-ASS Marcus. I've been working out for some time now and I have never seen the motivation, dedication, and determination that you inspire. It's a pure rush and a complete pleasure training out with you my friend. I've seen hundreds of gimmicks and products but nothing comes close to what you teach. I've seen and even tried the Billy Blank's Tae Bo workout and it's nothing compared to your Cardio Kickboxing. I would like to be in your next instructor certification training program so that I may teach at my next assignment in California.
FIRE IT UP!!!
Sam Isaia
USN, Pearl Harbor Hawaii

---
Aloha Marcus DeValentino~
We would like to thank you for the improvement in the quality of our lives which has been gained through Carey's participation in your Cardio Kickboxing program. Carey has commented many times on how much she enjoys your exercise classes and also that she feels more vibrant and energetic since she began. Myself, I have enjoyed more physical activities w/Carey and have no longer worried about her health because prior to her starting Cardio Kickboxing, she was at a high risk for contracting diabetes due to our family history and lack of exercise. Your zealous endeavors are a credit to yourself and, I am sure have had a positive influence on all whom you come in contact with through your program.
Much Mahalo
Carey & Andrew Berky,
Honolulu, Hawaii

---
April 01, 2004
Hello Marcus! Good to hear from you and really miss your classes. Believe it or not the company that took over the classes at Eagle Fitness Center recruited me to teach. I have been teaching the lunchtime class now since December. It has been great! I really love it. I am actually about 10 weeks pregnant now but am still going to keep teaching until I just get too big. My doctor said it is good for me.
Take care!
Sascha Swafford
Ft. Meade, MD

---
Dear Marcus
Just a short note to thank you for your time and kindness extended to me today at your Cardio Kickboxing Instructor Program in the State of Maryland USA. Although I am looking forward to my holiday in Hawaii and to meet with your Team Cardio Kickboxing instructors there, I want to go straight home and start working and practicing. I know I have a lot of work to do as the first to present the Original Cardio Kickboxing Program to this region of the world.
Today (January 2, 2005) it was great to train with the best of the best! I promise to come back later in the year, and have another session with you, and knock you off your feet! (Not literally, of course!)
May I take this opportunity to wish you health, wealth and happiness in 2005, and thank you once again.
Take care,
Kim Pothecary
British subject
Dubai, United Arab Emirates

---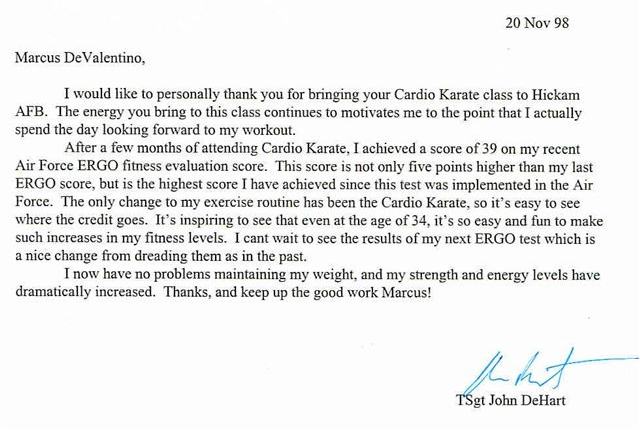 ---
Aloha Marcus,
I thank you for taking the time from your busy schedule to email me. I really miss our classes in Hawaii. I was in the class for a year and a half. I loved it and all of my friends that joined loved it too. We really appreciate what you and your team do for our troops, keeping us in shape and all. I am going to order some videos because I can do my workout at home. I am stationed in San Diego now and will be there until Jul '06. Like I said in the guest book, I am in Iraq, but should be leaving soon. I do miss you all so much. You take care and keep all that energy going.
THANKS,
MAHALO
Lynette Brown
Iraq

---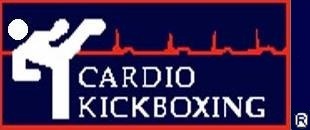 Return to Home Page